Am I the only one that thinks of the dragon in Harry Potter when I hear the word 'Hungarian'? Just me? Ok… Race weekend is here again, this time in Hungary. The drivers will line up tomorrow at the usual time to go head-to-head, but for now, enjoy our pre-race update.
The Hungaroring was built between 1985 and 1986 within the span of nine months, which is funny when you consider that it takes longer than that in Malta just to fix a few potholes on a main road. The first time this circuit was used by F1 was in 1986 during which Williams' Nelson Piquet famously slithered around the outside of Ayrton Senna's Lotus to win the race.
If you've ever been to any go-karting track, you'd look at this track and be like… yeah, familiar. This circuit is like a go-kart track on steroids, due to the lack of straights while sporting several corners that string together. The teams usually just go with the 'Monaco' builds for maximum downforce given the short straights and the unforgiving left and right handers. Get to know the track with past Mercedes' World Champion Nico Rosberg here.
Aaah Rosberg… the only dude to ever stop Sir Lewis from winning during his long streak of championship wins. Speaking of Sir Lewis, the Brit is back on form as the seven-time world champion lands in P1 for tomorrow's race after a harrowingly impressive showing during qualys.
Sure, you can say he managed it using some gamesmanship… but to each his own right? His actions in the pit lane alongside some other stuff caused Redbull's Sergio Perez to not manage to cross the line in time to start a timed lap, leaving him banging on his steering wheel in frustration.
Lewis set a slow first sector and didn't improve in the other two, but that didn't matter. While Verstappen set personal bests in sector two and three, it wasn't enough to improve on third. This gave Hamilton his eighth pole position in Hungary.
Mercedes managed to lock out the front row with Valtteri Bottas lining up in P2 just shy of the King himself. P3 and P4 will be filled by the Redbull boys which will start off the race hunting down the silver arrows in front (Max being P3 respectively, of course) Pierre Gasly continues his form, finishing a very strong fifth, marking his 8th top-six start this season. Followed shortly by none other than McLaren's Norris at P6, his highest ever start at the Hungaroring.
Ferrari's Sainz crashed in Q2 after losing control of the car late in the lap, but his teammate Charles Leclerc lines up on the grid at P7 while Esteban Ocon outqualifies Alpine team mate Fernando Alonso by a position for the first time in six races. Sebastian Vettel closes out our top ten for tomorrow in his Aston Martin as he finishes outside of the top five for the first time since 2008. Here are the full results: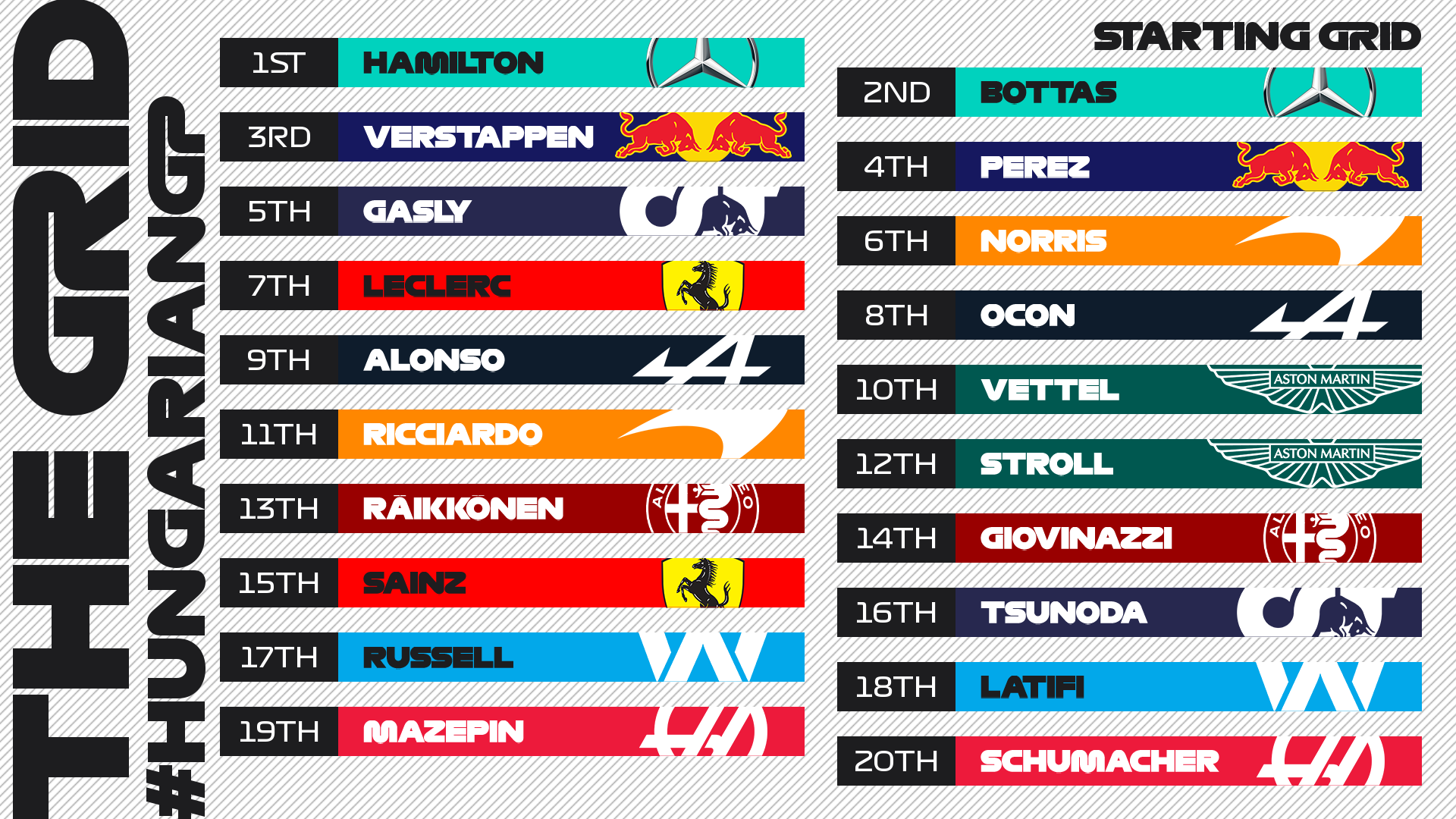 Tune in to the race tomorrow ! Also, stay tuned for our post-race update here at Revved.