So we are back after last weekend's shit show. You might have noticed the lack of Post-race content last week, reason being you can't write a Post-race … without a fucking race. Cancelled cause of bad weather. Piss off.
At least the weather at Zandvoort this weekend looks to be pretty nice. We've had an eventful day yesterday at this returning Formula 1 track, having a very interesting qualy. Today's race might turn a few heads.
Like Silverstone, Zandvoort was built in 1948 as a part of the post-war wave of motorsports enthusiasm that swept across the continent. Originally it was a track made up of a mixture of public roads that snaked through a resort town in Zandvoort and permanent track roads. The plans were brought to the Dutch Automobile Racing Club by 1927 Le Mans winner Sammy Davis.
Formula 1 arrived in the Dutch dunes circuit in 1952 and would go on to be an on an off season track until 1985. Finally after a 36-year-hiatus, the track will once again form part of F1. It was originally supposed to be a 35-year-long hiatus, but as you've to expect as an answer to every problem the past year… Covid.
So what's the circuit like? It has been described by current drivers on the grid as : Really quick, insane, crazy, old-school. Literally quoting here. The Zandvoort track flows brilliantly between sand-dunes, which leaves a certain rollercoaster-feel to the lap and the viewer. Sure it has been a bit modernized in time for this year's return, it still includes old-school banking angles and fast corners. Exciting stuff.
It seems to me that Max Verstappen is at his 'home' race every other week, but this he actually is at home. Sixty-five thousand fans were on their feet yesterday in euphoria as they watched their hero Max secure pole position yesterday for today's grand prix.
Max looked in control for the entirety of qualys and cruised through the competition to secure pole. Hamilton improved on his final lap but failed to catch up to the local-hero and only managed to secure P2 . His teammate Valtteri Bottas comes in at P3 who was 0,038s behind Sir Lewis.
AlphaTauri's Pierre Gasly secures P4. Continuing his season-long streak of a P6 or above start. Ferrari's Leading driver Charles Leclerc, who was quickest in Q1, will start in fifth. His teammate Carlos Sainz recovered from a crash during one of the practices, takes sixth. While Antonio Giovinazzi equalled his best-ever qualy performance with a P7 finish.
Alpine boys Ocon and Alonso come in at P8 and P9 respectively with a gap of just 0.023s between the pair. McLaren's Daniel Ricciardo completed the top 10, finishing ahead of teammate Norris. Here is the full grid for today: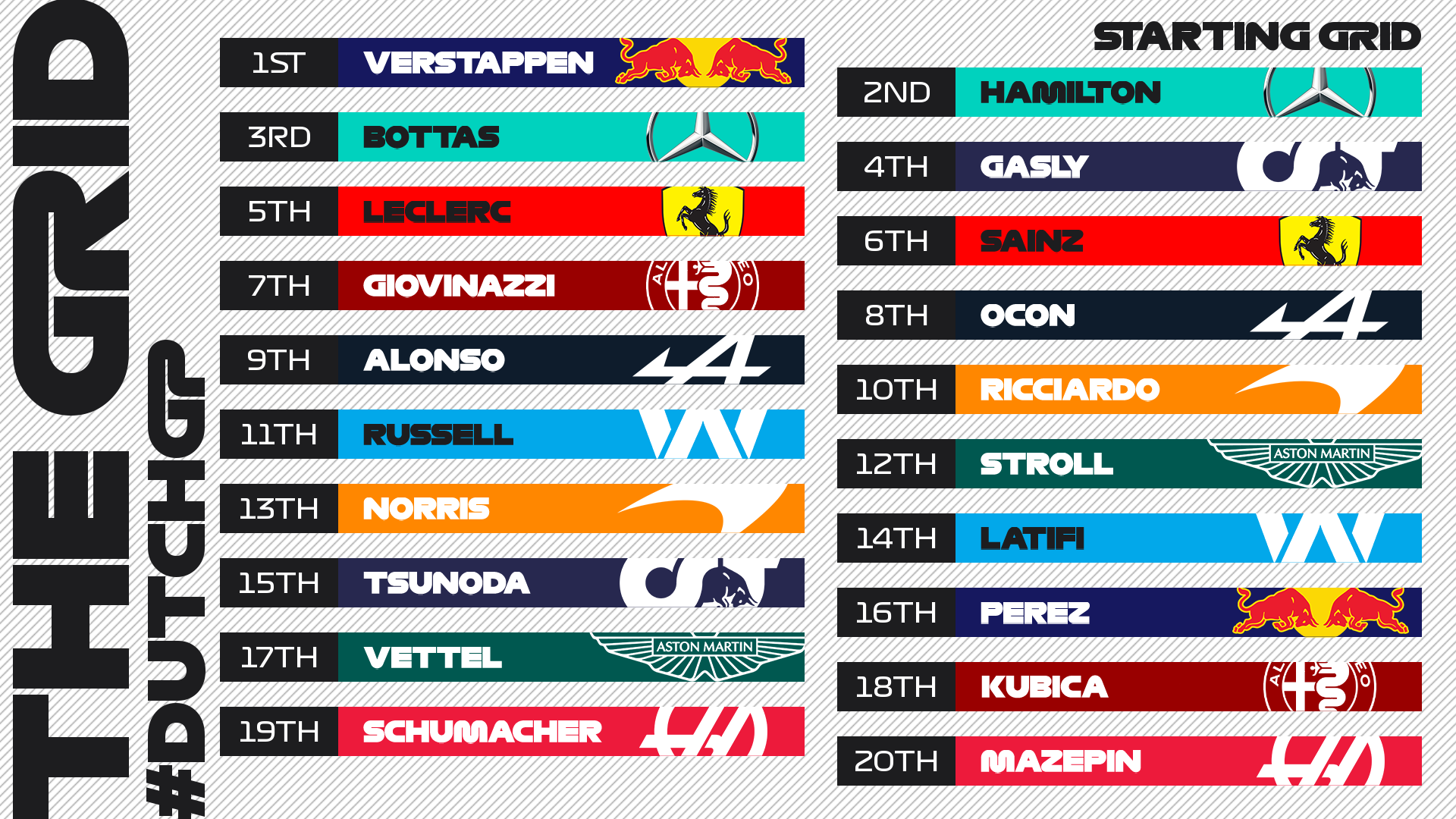 The usual time. The usual drama. Can't wait for this afternoon. Let's go! In the mean time check out the leading boys going at it during their fastest qualy laps!